Testimonials
Very honest and dependable. I wouldn't go anywhere else.
Kendell K.
---
Jeff and Billy are honest, trustworthy guys. They are realistic with their assessments and can be trusted to perform within the timeframes provided. I have only encountered excellent work by great people!
Giovanni M.
---
I swear by these guys. I have been going there for 10 years now and have received nothing but great service. I have referred close to a dozen people there all of which are extremely happy with their service.
Joseph C.
---
I brought my car to Joe's Service Center where Billy was able to get my car to FINALLY pass inspection. I had been going to another local repair shop for years but this repair shop was throwing parts into the car w/out rhyme or reason and costing me a lot of money. Billy took me through every scenario of what was causing my check engine, he did research online to isolate the problem and eventually was able to put a NJ inspection PASS sticker on the windshield. I could keep going on and on about how courteous they were at Joe's Service Center, but regardless, I think they earned my business for life. I highly suggest using them for car repairs especially emissions (like their sign says)
Jonathan D.
---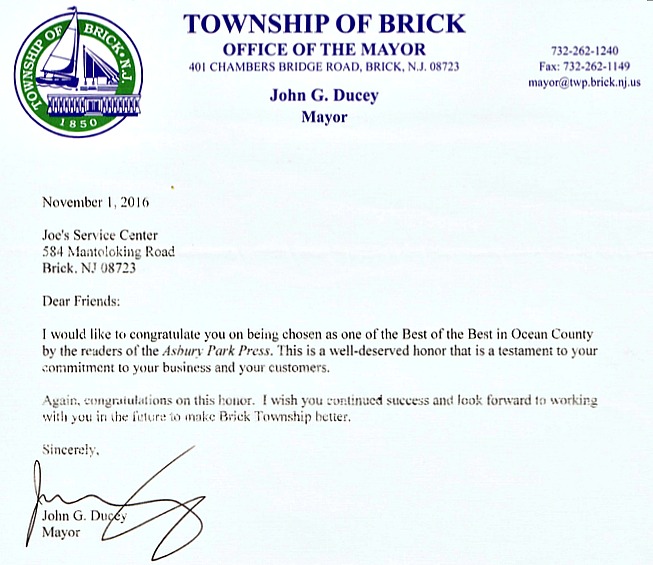 Brick Mayor - John G. Ducey
---